Optimize your invoice processing
Easy Systems offers efficient, accurate, and timely invoice processing software which will save your AP department from drowning in a sea of paper. Easy Invoice eliminates paper and the manual processing of invoices, and makes booking invoices faster and accurately with automated matching.

Save time
Process invoices automatically within seconds. Whether PDF or e-invoices, in no time – from capture to payment.

Avoid errors
Manual processing of invoices is reduced to a minimum. Automated data extraction and processing avoids mistakes.

Reduce costs
Lower your costs per invoice by automated matching, processing and payment of your invoices and benefit from supplier discounts by paying your invoices early.
Automated invoice capture and processing
The traditional way of invoice processing is often time consuming and complicated. Management has little or no insight in the invoice process and because data is entered manually it is subject to error. This process can be more efficient and therefore cheaper. With Easy Invoice we offer you a fitting solution for automating your invoicing process.
Easy Systems makes it simple
Our OCR software takes care of all your labor intensive invoice handling, leaving your mailroom and AP staff free for other tasks. Preparation, scanning and data extraction is all handled electronically. Once processed, invoices are delivered securely to Easy Invoice. Easy Invoice is the invoice portal which is integrated with your financial (ERP) application. With this easy to use solution you can process incoming invoices electronically. Easy Invoice gives you 100% control on your invoice flow.
Easy Invoice has saved HEMIMEX 12 hours a week in processing time. This means that the investment pays for itself within 8 months.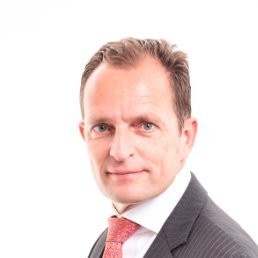 Interim Consultant Management & Advice | HEMIMEX
Easy Invoice has reduced the processing time of our invoices from an average of 1.5 weeks to 1 to 3 days .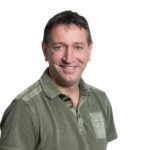 Finance Manager | Lentink
Given the time savings achieved, the Easy Systems solution can be earned back within a year, even for small organizations or with lower invoice numbers .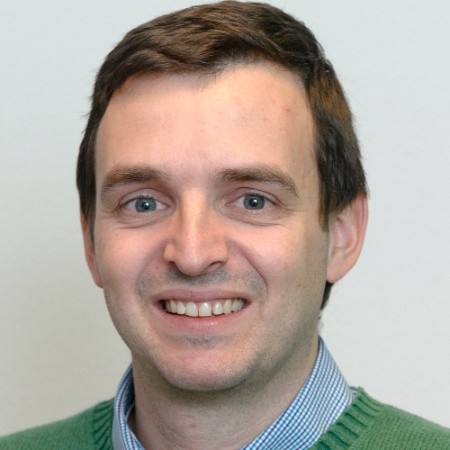 CFO & Owner | D&M Vacuümsystemen
Invoice processing software
Easy Invoice enables you to fully automate your invoice processing. This can be done from receipt to payment in your financial / ERP software, but can also be offered in a modular way. The software is able to process both cost related and order related invoices automatically. Easy Invoice is fully integrated with your financial / ERP system.
Increased visibility and realtime insight
Get visibility into everything from spend patterns to the status of an invoice with Easy Invoice. With a centralized database and real-time access to the status of all your invoices, wondering what happened to an invoice from a month ago is a thing of the past.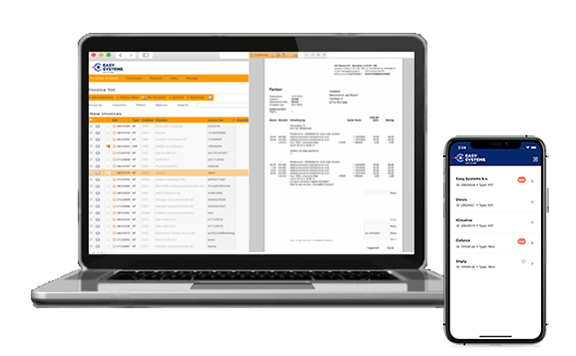 Automatic 3-way matching
Easy Systems automated invoice processing uses 2-, 3-, or even 4-way matching rules to ensure the goods or services being billed align with orders and receipts. Our matching module matches an invoice with the associated purchase order and receipt registration. Set invoice matching tolerance levels so that reviewers are only involved when necessary.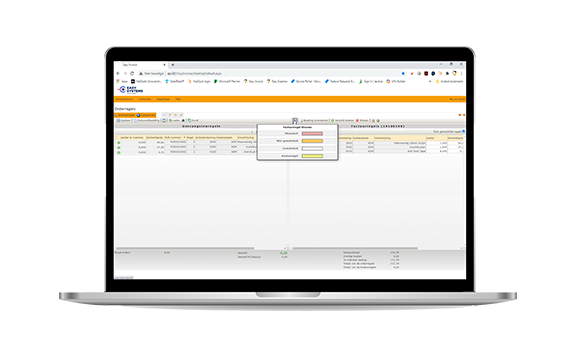 Add remarks, send for review or information
Add a remark to an invoice to clarify the status or the reason why it's send to your collegue for information / review. A remark opens automatically when the invoice is opened.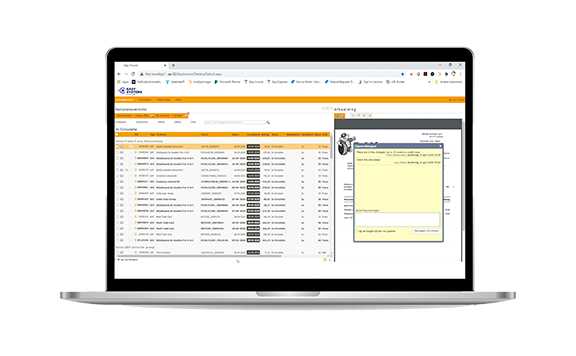 Wherever and whenever access to and control over your invoice flow
If you don't want to be restricted to your workplace to be able to view, return or approve your invoices, use the Easy Invoice mobile app. With this mobile app the world is your office! Wherever you are, whenever you want, 24/7 access to and control over your invoice flow! Fast, easy and always available.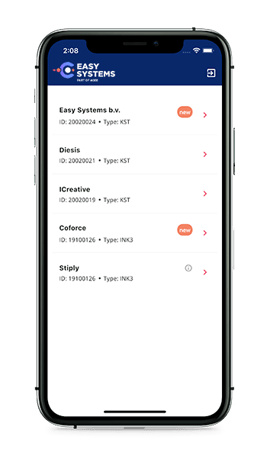 Automated Invoice Processing. The Benefits